When you use our company formation services to register your company, you gain immediate access to the free Online Company Manager. This handy tool makes taking care of your company admin simple. In this blog we look at how.
Your Customer Dashboard
You can log in to the Online Company Manager by selecting the 'Client Login' option from the 1st Formations homepage and entering your username and password (created when you set up an account with us). You will then be presented with your dashboard, which is broken up into 8 sections, as well as areas dedicated to forming (another) company, and frequently asked questions.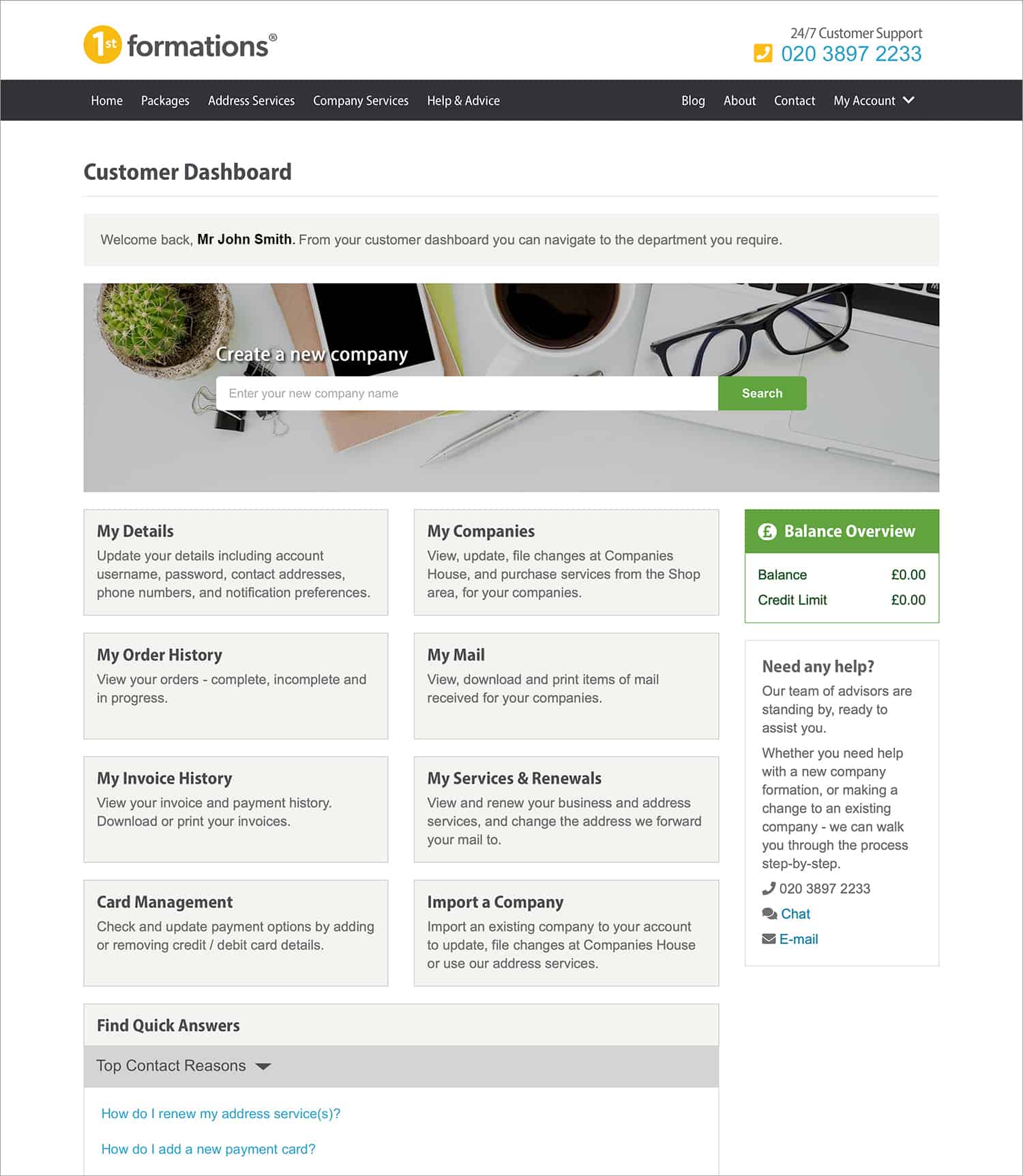 Let's take a look at the 8 sections and explore what they enable you to do.
My Details
This is the location where you update your account information (not company information). From here you can change:
The account holder's name
Username
Password
Physical contact addresses (primary and billing)
Email addresses (primary and billing)
Phone numbers (primary and billing)
The notifications that you receive from us – this is particularly useful, as you can manage the email alerts that we send as and when your annual accounts and confirmation statement due dates approach.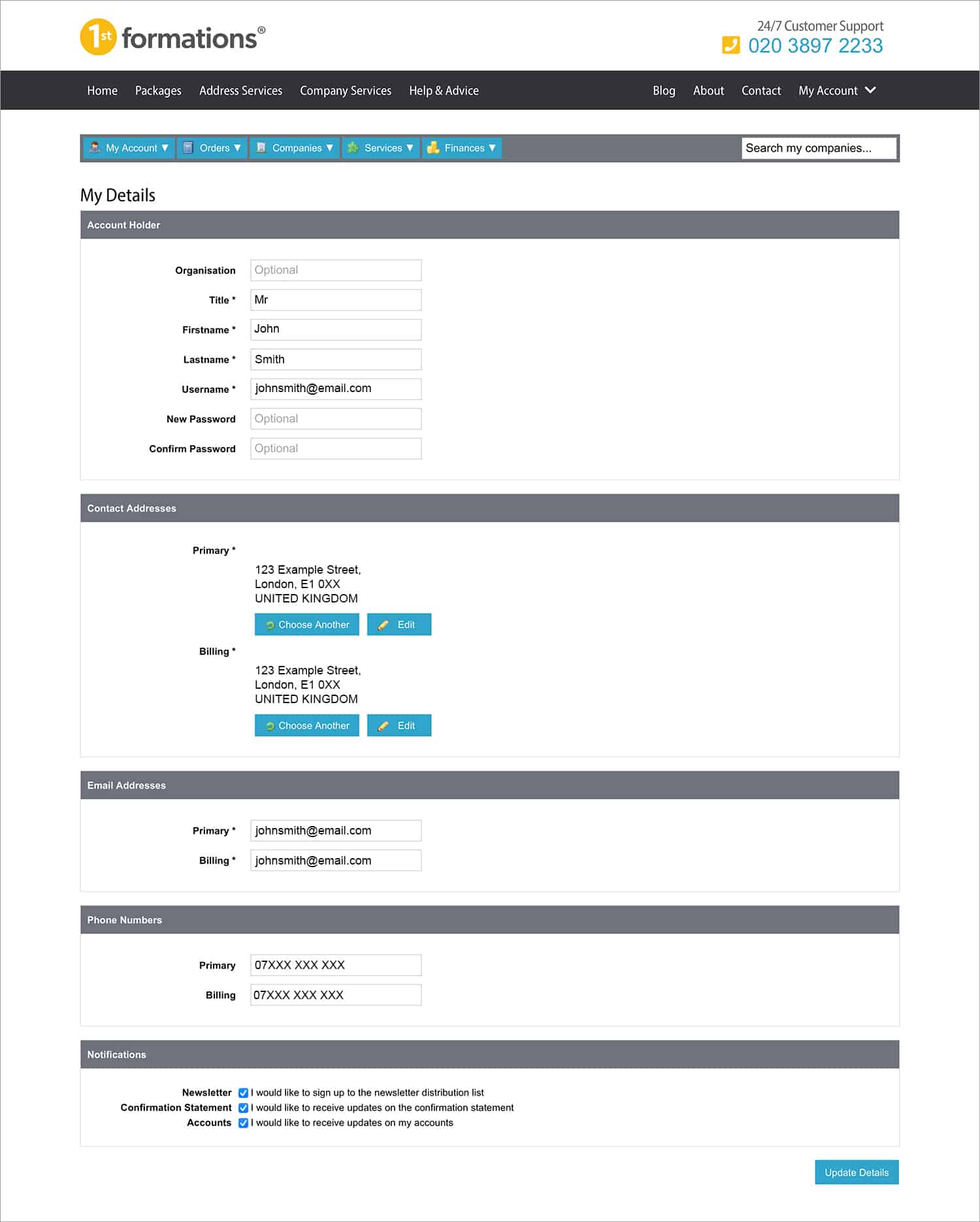 My Companies
Any companies that you form with us will appear here.

When you select 'View', you will find the key area for managing your company – your 'Company Overview'. From here you can view the following company information:
Name
Company type (e.g. 'Limited By Shares')
Jurisdiction (e.g. 'England and Wales')
Confirmation statement due date
Annual accounts due date
Annual accounts made up to date
The names of all directors, shareholders, secretaries (if one is appointed) and people with significant control
The number, type, value and currency of the shares held by each shareholder
Any company statements
Company documents, including the company summary and share certificates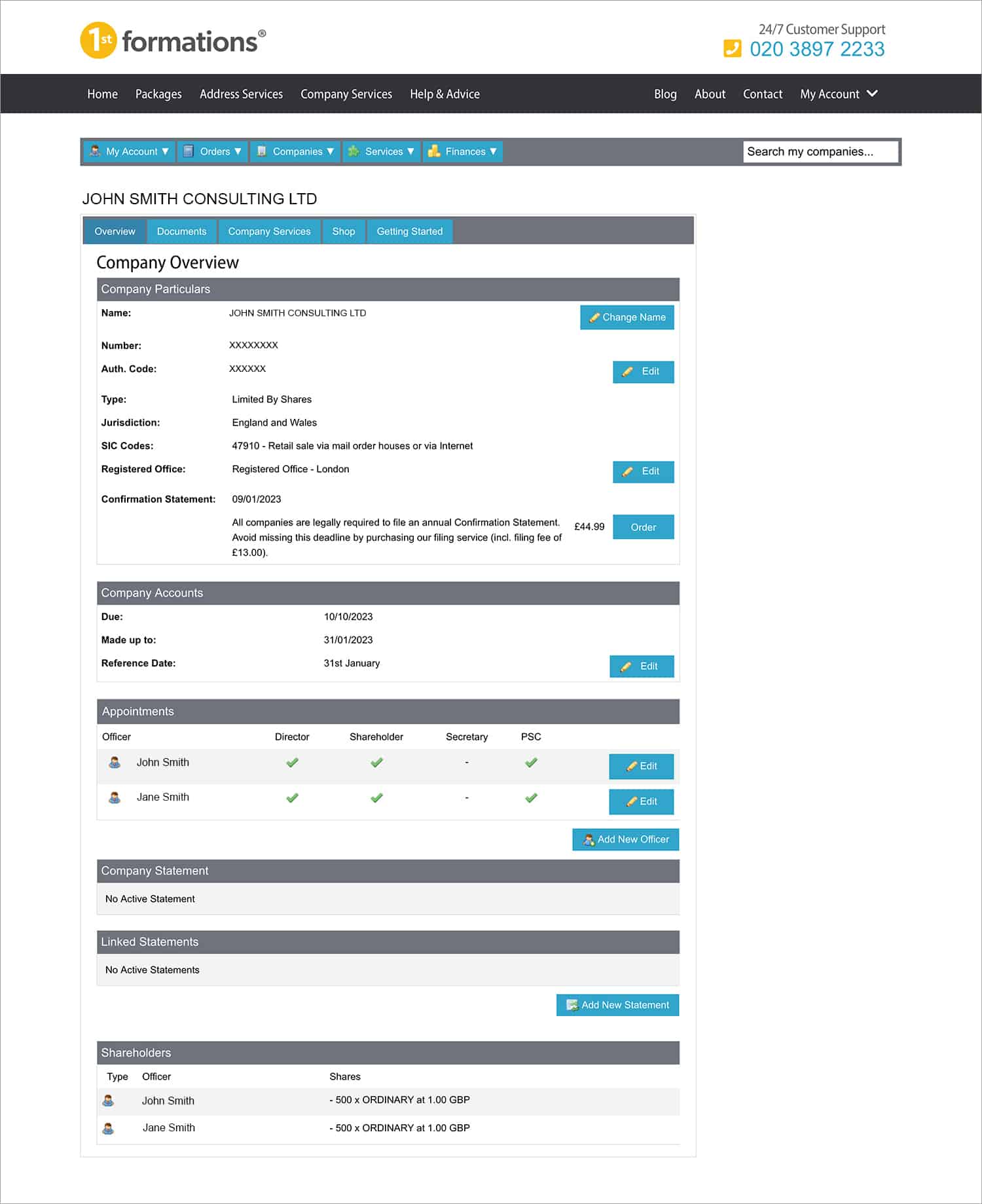 But the Online Company Manager isn't just for viewing company information. Because the system syncs up with Companies House, you can actually use it to make changes to your company instead of having to use Companies House WebFiling.
You can utilise your Online Company Manager to take care of the following changes and admin responsibilities:
Change of company name (£59.99)
Change of registered office
File a confirmation statement (£44.99)
Change of accounting reference date
Notify Companies House about a new director, secretary or person with significant control
Notify Companies House about an amendment to an existing director, secretary or person with significant control (e.g. change a director's surname)
Add a new company statement
You can also use the 'My Companies' section to shop for other services that we offer (such as our Registered Office Service and Dormant Company Accounts) and opt-in to various partner offers including business banking, accounting software, and more. Simply click the 'Shop' and 'Getting Started' tabs to see what's available.
My Order History
This is where you can view the order information for all of the purchases you have made with us.

If you select 'Details', you can then see how that particular order is broken down.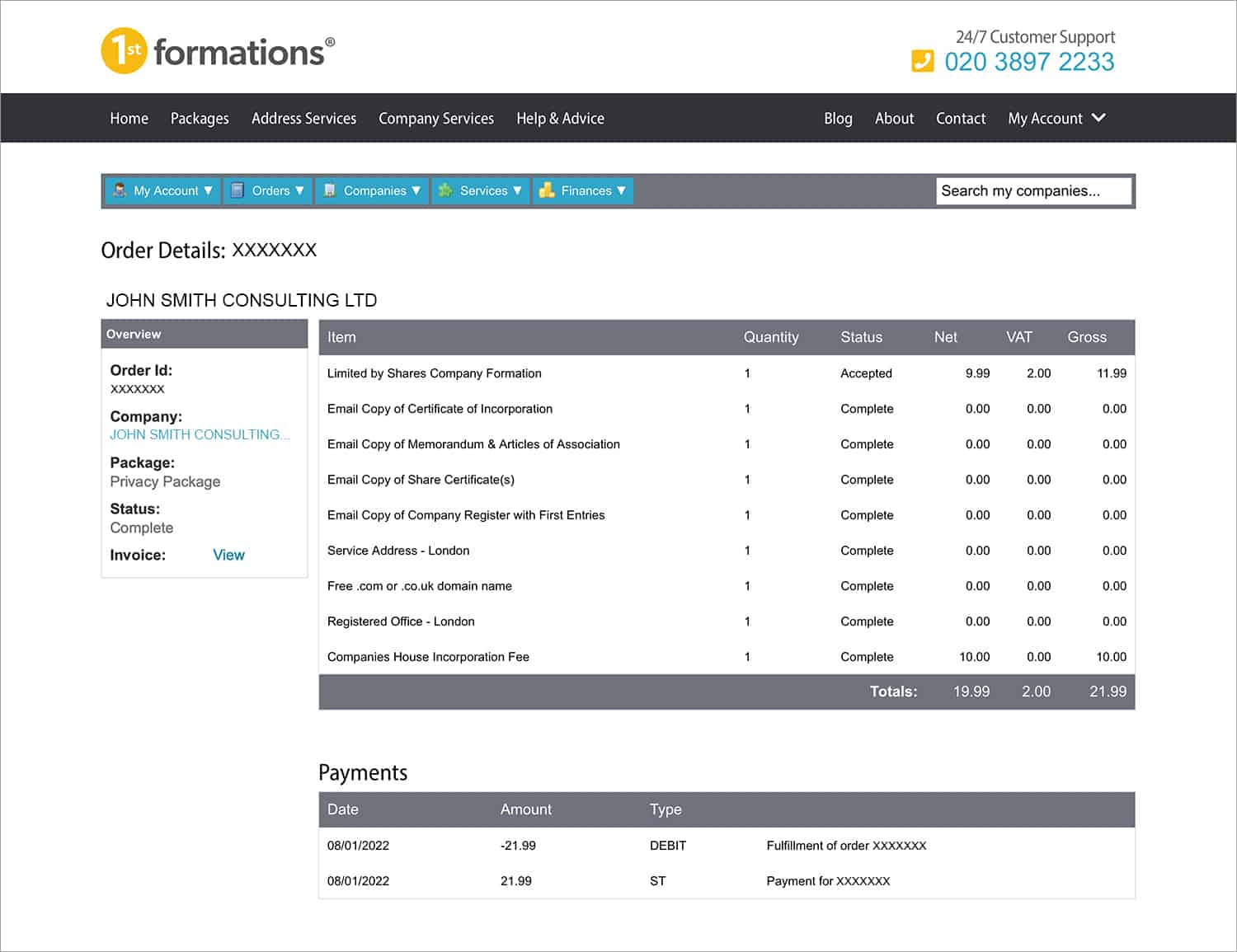 My Mail
If you have our Registered Office Address Service and/or Service Address, we will scan and then email any official mail (mail from government bodies such as Companies House and HMRC) that arrives at our address. This scan and email facility is also an optional extra with our Business Address Service.
As well as scans being emailed to you, you can also access them in PDF format whenever you want – directly from 'My Mail'.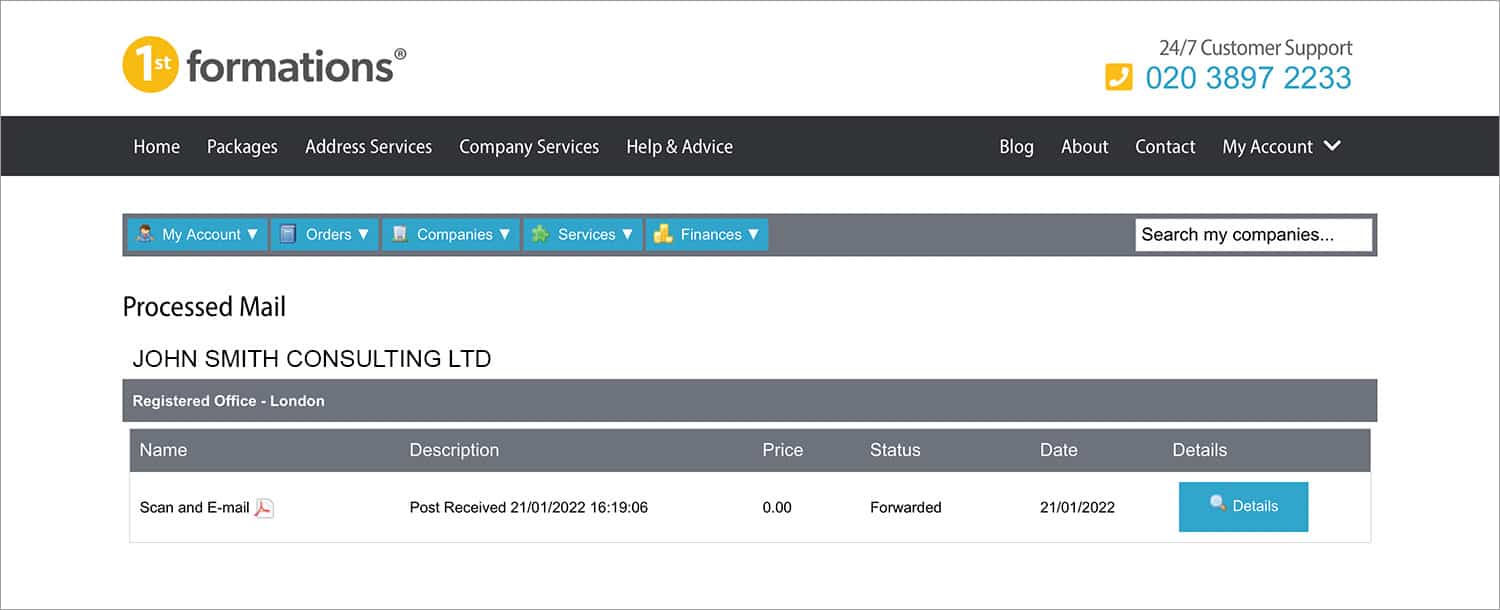 My Invoice History
Do you need to view an invoice from one of your purchases with us? This is the place to do it. Simply select 'Invoice' and we'll immediately present you with a downloadable/printable PDF of the invoice in question.

My Services & Renewals
This is where you can view and manage your renewable services.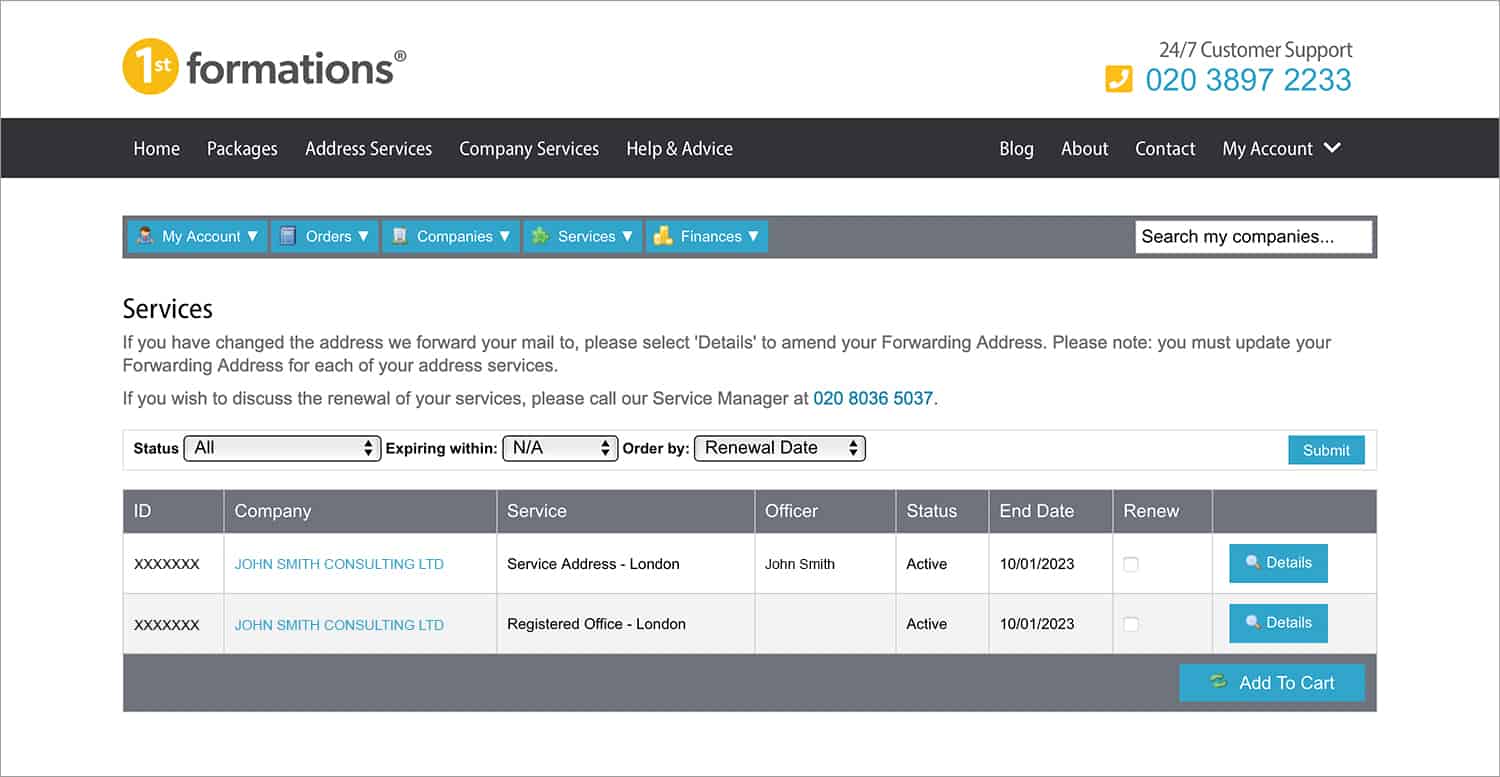 'My Services & Renewals' is also where you must go to amend your forwarding address. This is relevant if you have our Business Address Service, whereby mail is typically forwarded on (unless you have selected the scan and email option).
Plus, if you have our Registered Office Address Service and/or Service Address, there may be instances when we need to physically send official mail to you, rather than scan and email it. So this is also where you can manage the forwarding address for those services.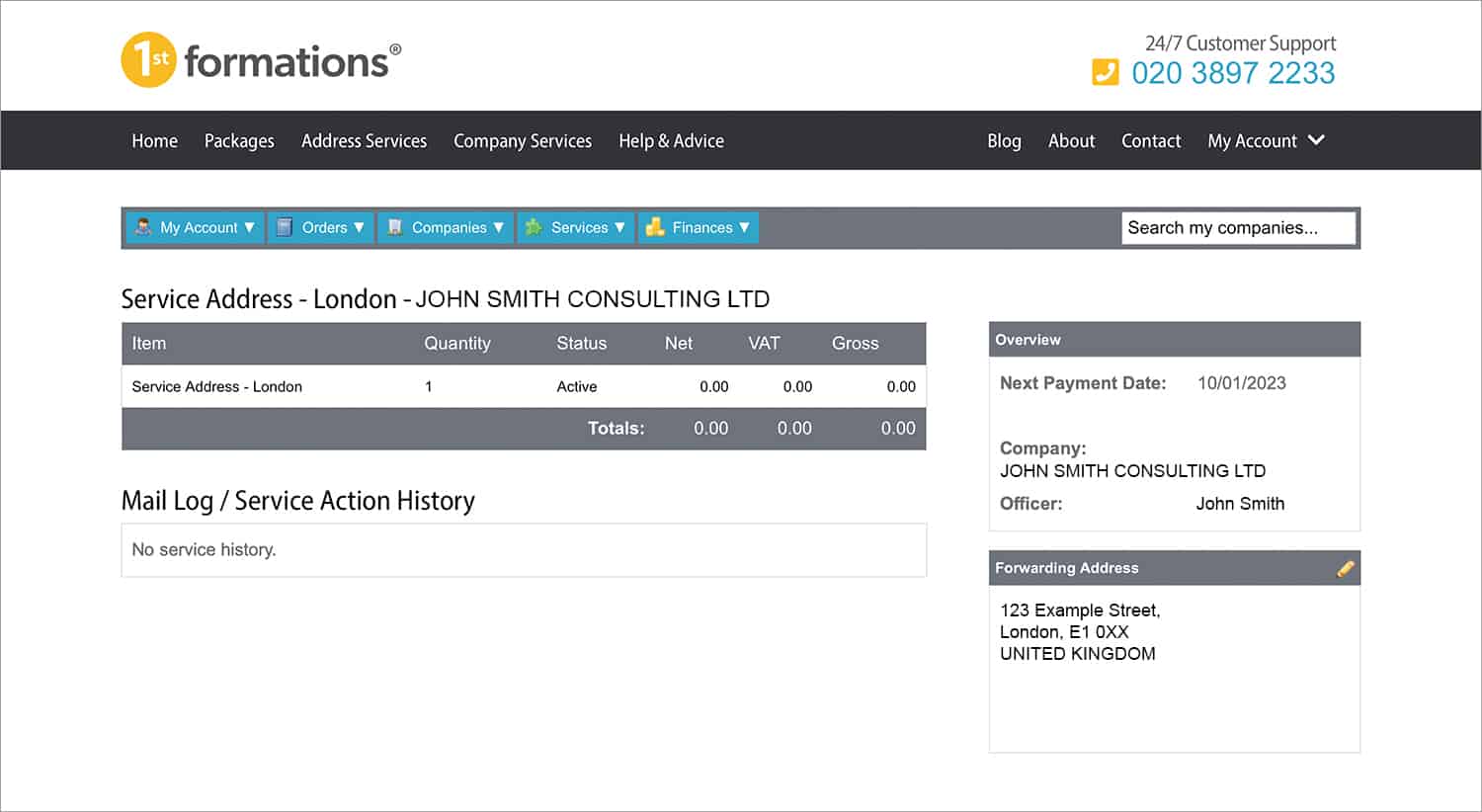 Card Management
If you want to change the card information that we have on record, this option allows you to securely update your card details. Once updated, future renewals will then be taken from the new 'Primary Card'.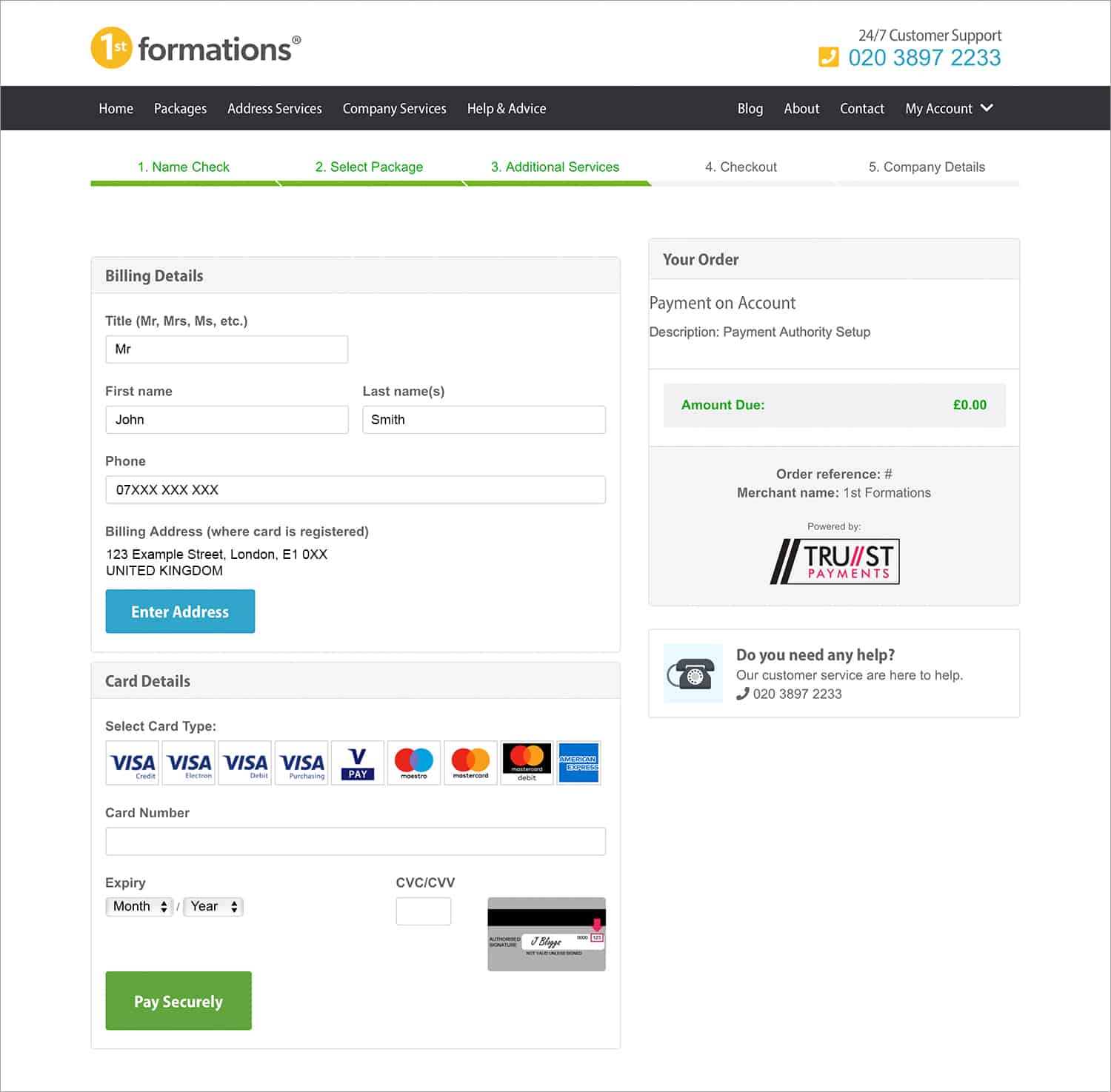 Import a Company
This facility allows you to import any companies that were not formed by us onto the Online Company Manager. All we require is a company number and authentication code. This is particularly relevant to anyone who manages multiple limited companies, or business owners who didn't form with us, but now wish to use the Online Company Manager.

Are you interested in using the free Online Company Manager, even though you didn't form your company with us? Create your account now.
So there you have it
The Online Company Manager is designed to make it easy for you to manage your company and the services that you have with us. In just a few clicks, you can notify Companies House about a new director appointment, change your mail forwarding address, arrange the preparation and filing of a confirmation statement, and much more.
Log in now to explore your dashboard!
We hope you have found this post helpful. If you have any questions, please don't hesitate to leave a comment and we'll be happy to help.