Last updated: 8 Nov 2023
The impartial business advice organisation Business4Beginners recently conducted 81 hours of research into 18 different company formation brands, comparing numerous attributes to discover which is officially the best UK company formation agent.
Their 'Best company formation agent review' ranked each brand based on the following metrics:
Ease of use
Value for money
Customer support
Services offered
Their comparison revealed that the best company formation agents are as follows: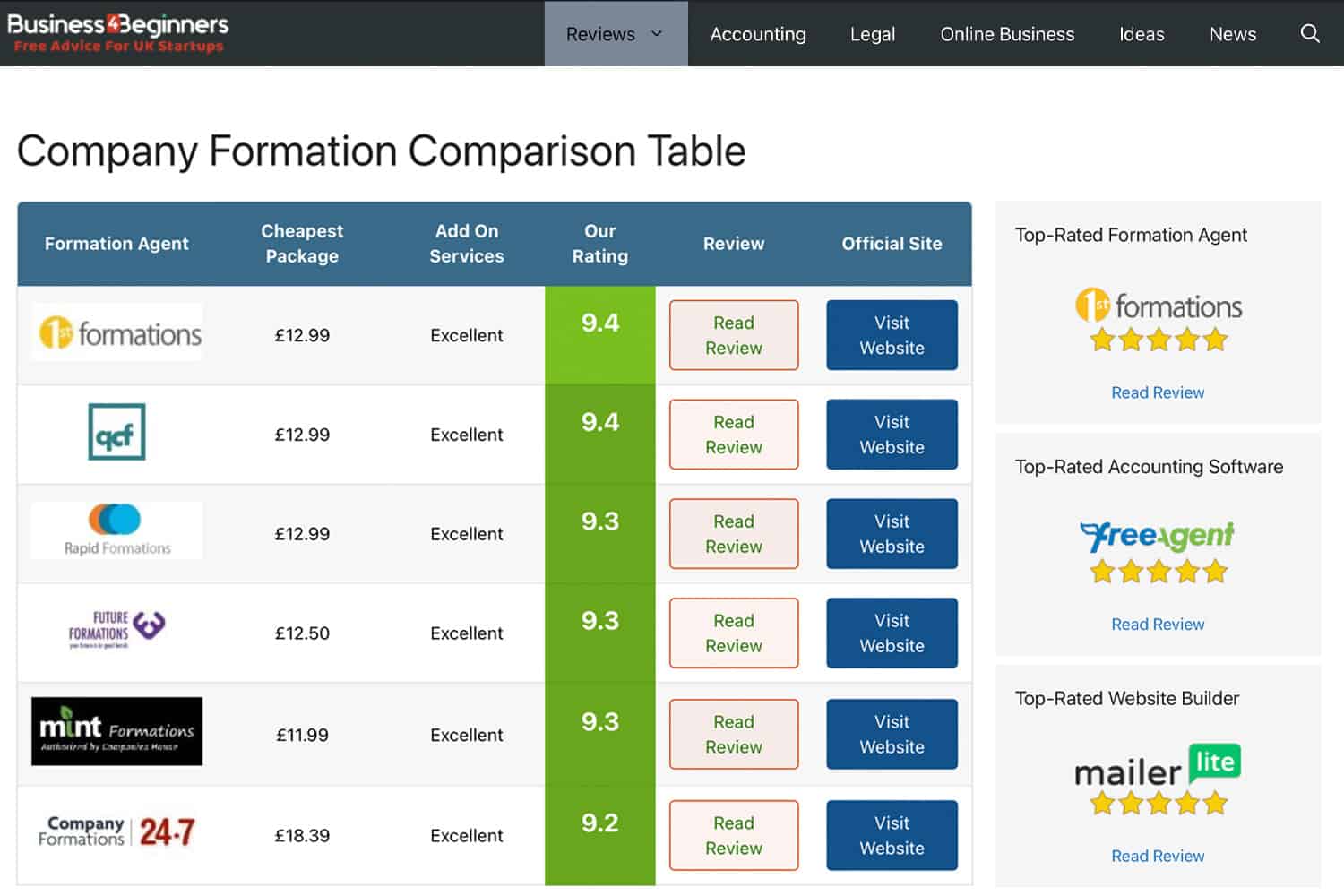 Best company formation agent UK
As you can see from the table above, the independent review looked at a range of important features and metrics, cross-comparing each formation agent with one another, and found that 1st Formations are rated number 1, with an overall score of 9.4/10.
Best company formation agent review: 1st Formations
1st Formations overall score of 9.4 came from an average of the following ratings, with customer support being the strongest of all companies, followed by variety of services offered, value for money and ease of use, all of which categories scored 9 or more out of 10:
Ease of use: 9.0
Value for money: 9.3
Customer support: 9.6
Services offered: 9.5
The full 1st Formations review revealed that services that drew particular plaudits from Business4Beginners included our world-class partners, as well as the fact you can get your business up and running on the same day, unlike many competitors.
Who conducted the company formation agent comparison?
Founded in 2013, Business4Beginners provides "small business, startups, and entrepreneurs with the advice they need to be successful in their ventures". They are fully impartial and highly trusted in the B2B community.
We'd like to thank them for rating us the best company formation agent in the UK!
Why reviews matter to us
As we mention on our homepage, we are obsessed with our customers. More than any other thing, we put our success down to this customer focus. When we do receive a positive review, it lets us know that we're on the right path.
Our Trustpilot rating
We're currently rated 'Excellent' with a 'TrustScore' of 4.8 out of 5. This is out of 19,651 reviews. 
Our Google rating
At the moment we have a score of 4.9 out of 5. This is out of 4,333 reviews.
We'd like to thank all of our customers who have taken the time to leave their feedback and write a review, it really is appreciated.
Are you thinking about starting a company? Do it with the UK's best company formation agent
We'd love to be able to help you get your limited company started. As you can see, we've plenty of satisfied customers! 
Please leave a comment if you have any questions.