We're delighted that Business4Beginners have announced 1st Formations as the UK's best company formation agent!
They spent 72 hours researching 16 different company formation brands, and at the end of it all, gave us the top rating of 9.4 out of 10.
How we achieved top-rated formation agent
Here's how our score was broken down: 
Ease of use: 9.0

Value for money: 9.3

Customer support: 9.6

Services offered: 9.5   
And here's how we stacked up against the competition: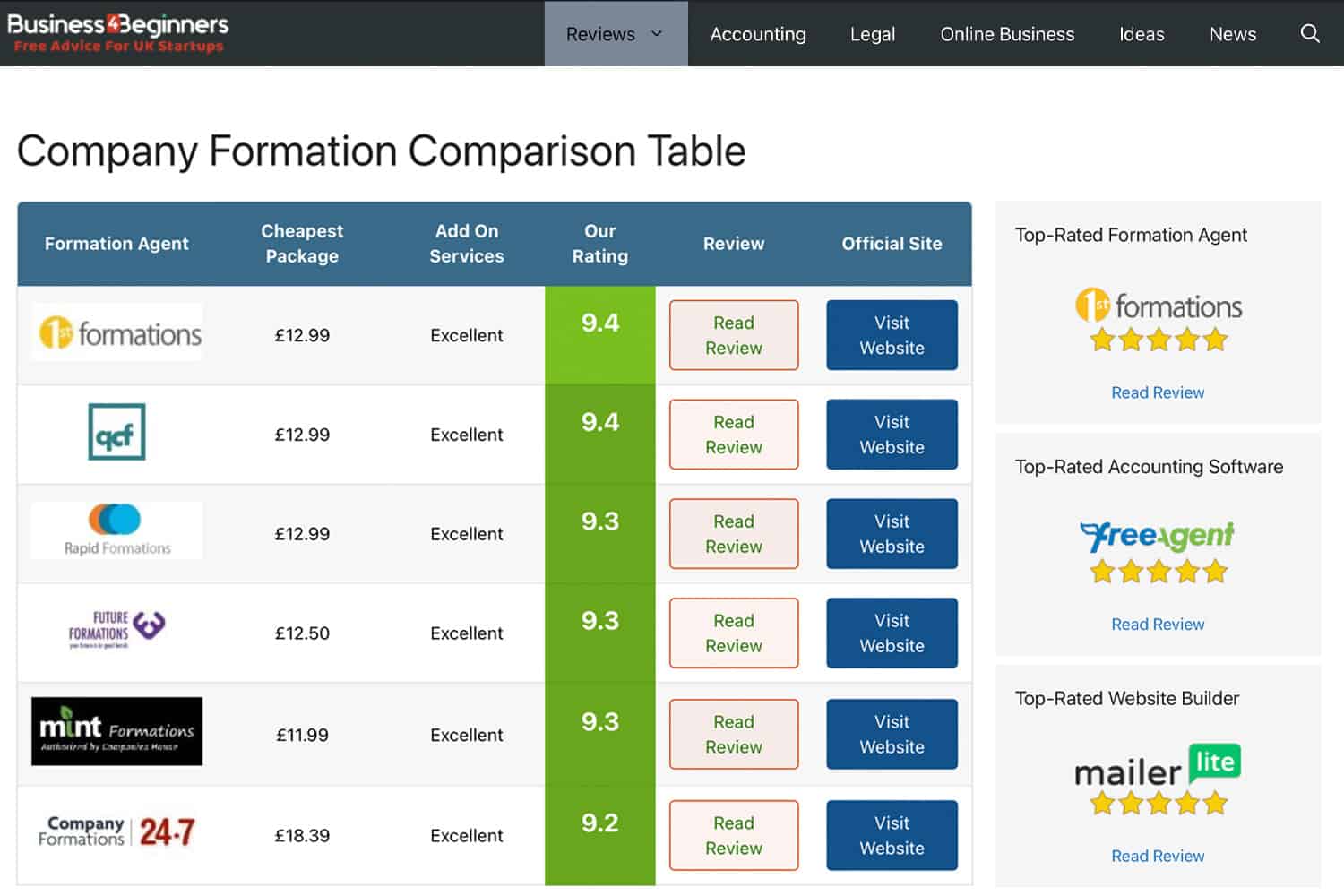 Areas of our service that drew particular plaudits from Business4Beginners include the quality of our customer services, the variety of company formation packages (with added benefits) on offer, our world-class partners, and the fact you can get your business up and running on the same day. Read the 1st Formations review in full.
About Business4Beginners
Founded in 2013, Business4Beginners provide "small business, startups, and entrepreneurs with the advice they need to be successful in their ventures". They are fully impartial and highly trusted in the B2B community. 
We'd like to thank them for rating us the best company formation agent in the UK!
Why reviews matter to us
As we mention on our homepage, we are obsessed with our customers. More than any other thing, we put our success down to this customer focus. When we do receive a positive review, it lets us know that we're on the right path.
Our Trustpilot rating
We're currently rated 'Excellent' with a 'TrustScore' of 4.9 out of 5. This is out of 14,532 reviews. 
Our Google rating
At the moment we have a perfect score of 5 out of 5. This is out of 1,722 reviews.
We'd like to thank all of our customers who have taken the time to leave their feedback and write a review, it really is appreciated.
Are you thinking about starting a company? Do it with the UK's best company formation agent
We'd love to be able to help you get your limited company started. As you can see, we've plenty of satisfied customers! 
Please leave a comment if you have any questions.