When you set up a UK limited company one of your first priorities should be to open a dedicated business bank account.
This is not a legal obligation (despite what you may read online) but it is recommended for a number of reasons.
In this blog post, we're going to look at these reasons and show how you can select an account when forming your company with us, or even after you've formed your company.
Let's get started…
4 reasons why your limited company needs a business bank account
Separate your personal and business finances – The alternative to opening a business bank account is to use your regular personal account for business purposes too. However, this will make the preparation of your tax returns particularly laborious as you will have to distinguish between personal and business transactions.
In more general terms, a business account will give you immediate insight into your business's financial wellbeing. In just a few clicks you will be able to see your company's finances. Without this dedicated account, you will always need to manually calculate what's yours and what's the company's.
Make a professional impression –  One of the major benefits of running your business as a limited company is the professional impression that the structure exudes. If you request that payments be made into a personal account, you're potentially undoing this work. Business contacts may question your quality of service and even legitimacy.
Take advantage of the features – The leading business banks offer various features designed to make running your business that much simpler. Online and app banking is very much the norm now – and on top of this you can expect to see banks providing integrations with accounting and invoicing software, access to business advice, and much more.
Get a loan – The majority of banks will not offer you a loan or line of credit without an account that's dedicated to your limited company. Even if this is not something that you're not interested in, it's always good to have the option available to you. Furthermore, without a business bank account, you will not be able to build up a company rating.
Form your company and pick a business bank account
As part of our company formation process, we offer free introductions to a number of business bank account providers. This means, if you choose to set up your company with us, you have the option to select what banks you're interested in at the same time as forming your company.
This is one of the many benefits to forming a company with us, rather than directly with Companies House. 
Generally speaking, our UK-based customers can choose from the below banks:
Anna

Barclays

Countingup

Cashplus

NatWest
Mettle
Tide
The exact banking partners available to you will differ depending on your SIC code (the code that sets out the industry in that you'll be operating).
Our non-UK based customers have the option to open a UK business account with Wise (formerly TransferWise).
Whilst we can never guarantee that your application to open a business bank account will be successful – as each bank has different opening criteria – you will find that our process simplifies your search for the right bank.
Selecting your bank whilst forming your company is simple
Once you have chosen your company formation package (unfortunately we can not offer a banking introduction as part of our Limited By Guarantee package) and made the payment, you will be guided to the company formation process.
It is here that you appoint your company officers, allocate shares, and set your registered office address.
After you have provided all of the necessary company information – this being what's required to get the company formed at Companies House – we'll present the banks that are available to you via the 'Business Essentials' section of the process: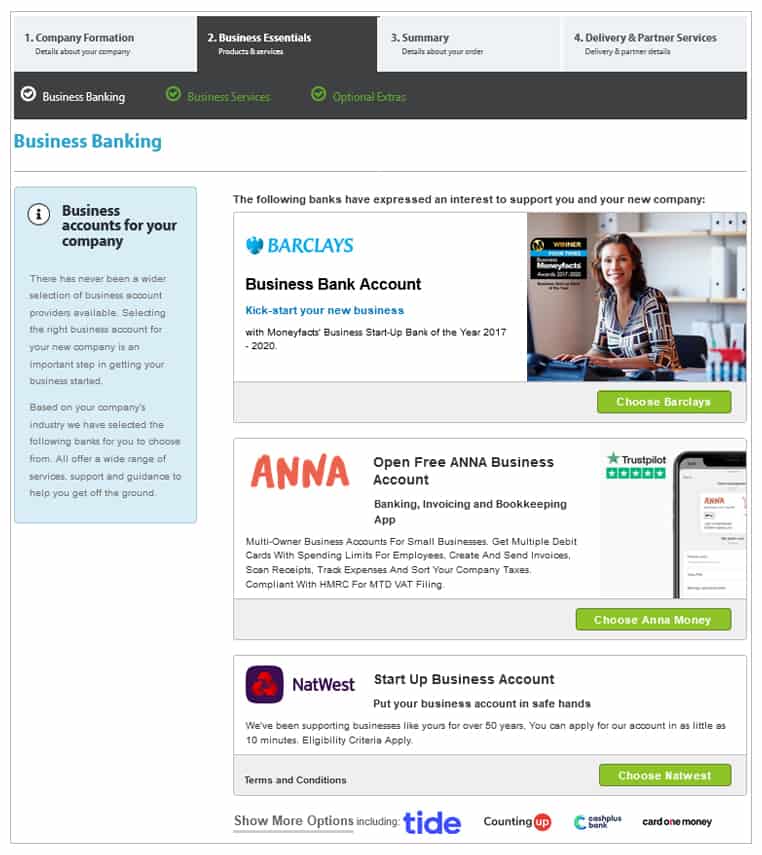 All you need to do is select the 'Choose' button next to the bank that you're interested in, then continue through the process.
Finally, before your application is sent to Companies House for approval, we'll ask you to give the contact information for who the bank should get in touch with (this is particularly relevant if your company has more than one officer).
Then once your company has been formed, the bank will make contact and provide further information on opening your business bank account.
But what happens if you don't select a business bank account during the company formation?
Don't worry, you can still access the online introductions, even after your company has been set up. Here's how:
Choose the 'My Companies' option

Select the appropriate company 

Click on the 'Getting Started' tab
You will then be presented with the list of business bank account providers that we work with.
Choose the 'Add To Card' option next to any of the offers that you're interested in, then proceed to the checkout to complete the order (no payment is necessary). You will then receive an email with further instructions.
Thanks for reading
So there you have it, why you need a business bank account and how to choose a business bank account while setting up your company.
We hope you have found this blog post helpful. Please leave a comment if you have any questions.